Leyton is the new home for the east London cool crowd, as Uber-ing young professionals move in to up their square footage.
The exact location of Leyton town centre is hard to pin down. The north-east London district is strung along Leyton High Road, stretching from the Queen Elizabeth Olympic Park in the south to Hoe Street, Walthamstow, in the north. These days, the centre could be said to focus around Francis Road. This new Leyton is all about the Hackney overflow. Made up of  young families and creatives moving to Leyton for homes they can afford to buy. This has in turn encouraged independent shops, restaurants and cafés to open.
There is a great community feel here, and part of the road is pedestrianised, with wider pavements and new trees and planting.
The Letyon, E10, postcode is just a stone's throw away from Stratford, yet offers more affordable rental prices, whilst still benefiting from its proximity to the popular Olympic Park. As a result, it is the residents who are reaping the benefits.
Redevelopment of Leyton Mills Retail Park and a new station in Ruckholt Road are possibilities, while the listed pavilion at Leyton Cricket Ground, a "village green" in the city, is set for a Heritage Lottery-funded makeover, with plans to create a Borough Market-style food hub, an event space and training kitchen.
The council and the England and Wales Cricket Board are also working to create a world-class cricket facility, with the sports hall and changing rooms refurbished for this summer's ICC Men's Cricket World Cup.
There are plenty of Victorian and Edwardian mainly bow-fronted terrace houses with three to five bedrooms in Leyton, where it is still possible to find a doer-upper. 
Purpose-built Victorian flats are also  a feature of the area, with one flat on the ground floor, one on the first floor, with their own front doors and section of garden.
Renting
Families and sharers snap up Leyton's Victorian and Edwardian houses, with anywhere near a station being popular. Since Lea Bridge station reopened, investors have been buying properties nearby. 
Transport
Leyton Midland Road is on the Gospel Oak to Barking Overground line. Lea Bridge station has trains to Stratford taking five minutes and connects with the DLR, trains to Liverpool Street, the Central and Jubilee Tube lines and the Overground to Highbury & Islington.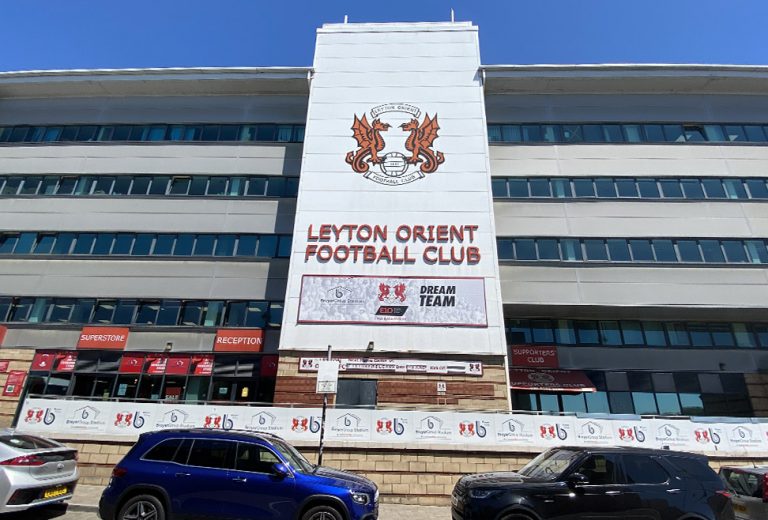 Leyton Orient
Known to Orient fans as Brisbane Road but officially called the Breyer Group Stadium, the home of Leyton Orient opened in 1937. The ground has seen a lot of re-development in recent years, with the construction of three new stands. Finance for this has chiefly come from the proceeds of selling part of the Brisbane Road site to a property developer. In this ground breaking development, the corners of the ground have been filled with blocks of residential apartments, which certainly gives the stadium a unique look.
Green Space
Leyton has lots of small parks and there is a footbridge over the railway to Hackney Marshes and the River Lea. Leyton Jubilee Park in Orient Way, the largest park, has a children's playground with a pirate ship; outdoor gym; football pitches, the Leyton Beach volleyball pitch; wildlife area, café and community garden. Coronation Gardens in Leyton High Road was named in honour of Edward VII's coronation.
It has a fountain, a maze, a bandstand and an ornamental garden. Abbotts Park in Abbotts Park Road has children's playgrounds, tennis courts and table tennis.
Education
Leyton's primary schools are all judged to be good or better by the Government's education watchdog Ofsted. Newport, Davies Lane, Riverley, Willow Brook and Barclay schools all get the outstanding rating.
The local comprehensive schools are judged to be good. These are: Norlington (boys, ages 11 to 18), Connaught (girls, 11-16) and Lammas (co-ed, 11-18). There are two all-through state schools, both of which are rated good: George Mitchell (co-ed, 3-16) and Buxton (co-ed, 3-16) in Leytonstone.
Leyton Sixth Form College is also judged to be good. Chobham Academy (co-ed, 3-18) in the Queen Elizabeth Olympic Park is judged to be outstanding.